This post brought to you by The Cinco de Mayo Miracle notice - class was cancelled this afternoon! I'm so excited to be starting my weekend a few hours early.
Sight

Lime green ivy on the side of Bond Chapel
Schindler's List
. I'd never seen it before, and watched it Wednesday night.
Red and white dust jackets at work. Gorgeous. All the images (paper cutouts) are different.

Smell
The ground right after rain
That really good smell of permanent markers. Yeah, I know, you're not supposed to smell them.
Wet newspaper and cardboard

Taste
Blackberry Green Tea Frappuccino
Incredibly spicy tofu, bok choy, bamboo, watercress, baby corn, and pea stirfry
Watermelon chewing gum

Touch
Sticky backs of barcodes at work
A warm breeze
Sun-warmed bench waiting for the bus

Sound
Fantastic words like "supposititious" and "himatophorida". The second one is Greek and pretty much means suitcase :)
Echoes of a student choir practicing some motet in a stone archway
Incredibly loud sneeze with impeccable timing - right after the teacher said, "And the rabbi responded,..." "ACHOOO!"

Other highlights of this week -
Reading:
William Golding books - The Paper Men, The Double Tongue, and Darkness Visible.
Greek school exercises and letters about friendship.
Drafts of my midterm paper, turned in Wednesday.

Thinking about:
Movies with friends - tonight we're watching Walk the Line
Classic Alice illustrations. When I was about 6 I remember thinking it would be great if my middle name could be "Wonderland." Yes, Allison Wonderland. I've reconciled myself to Leigh, but Alice's world still holds so much wonder for me. For some reason I especially love the duchess.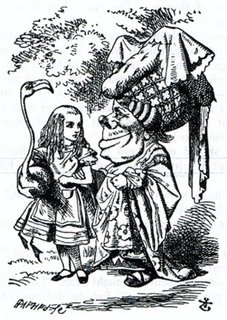 Broccoli. Why is it so cute?
Breakfast food. Check out this post for some inspiring images.
If any of you do a 5 Senses list, let me know. I'd love to read it!